EXPLORE SOMEWHERE UNTAINTED
Madifushi Private Island is a natured centric island, an unblemished serene coastal getaway for everyone ready to be relived.
Its beauty lies in the untainted crystal blue waters blending as one with rich natural seagrasses and corals accompanied by wildlife, radiating soothing waves and air of purity. An ideal escape to capture the reality of genuine relaxation and pleasure.
It is our purpose to shape the atmosphere that draws you to cherish memories and create new ones with your loved ones. We curate your dream escapes with a tailor-made service.
THE ISLAND OF SERENE
WONDERS
Set foot onto the island that invites and inspires tranquility. The resort has been architecturally designed to sit in harmony with the natural environment, senses are awakened – not overwhelmed.
Situated amongst the tropical flora and fauna; the beach havens or over-water havens have been perfectly designed for travelling families and groups of friends alike.
The island's forefront is surrounded by 26 Serene Pool Villas, 3 Two-Bedroom Serene Pool Villas and 1 Grand Madifushi Serenity Pool Villa.
Step into the clear waters with our 46 Aqua Pool Villas, 3 Tranquil Aqua Pool Villas, and 1 Grand Madifushi Aqua Pool Villa, stretched out into the vast lagoon.
A taste of indulgence full of exquisite flavors enhancing your senses.
Known for its beaches, lagoons and vibrant heritage, discover the Maldives, and connect with yourself amidst the tropical coral islands.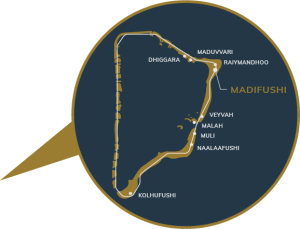 Nestled in the Meemu Atoll, renowned for its abundant flora and fauna, including swimming with whale sharks and manta rays to sailing with dolphins at sunset, the resort is reached by 35-minute picturesque seaplane flight over the atolls.